Ragdoll Richenza - about us
We are a small kennel near Rakovník, registered under the Czech Breeders Association, under the international organization FIFÉ.
In no case do we sell kittens without pedigree and we do not support the activity of breeders selling unregistered kittens.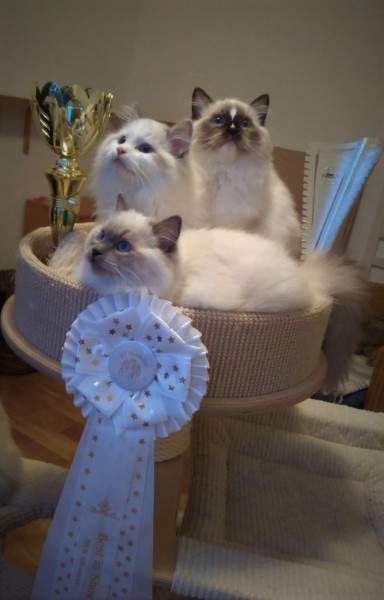 We presented our kittens (Hermés, Hestia and Harlequin) at the International Cat Show on Olomouc 7.-8.12.2019.
They won Best in Show!
Father: GIC Goodyer Milkyland * PL
Mother: Ekler Mruczacy Raj * PL
Preview in gallery - litter "H"
On June 26, 2020, 6 kittens were born from Goodyer x Ekler
Our cats live with us as a family and are regular members. We care about their health and our breeding cats are negatively tested for HCM FELV / FIV, Chlam., Streptococus canis, hereditary neg. PKD, HCM in 4 generations, control nego (MVDR.Hrib).
We feed exclusively premium and super-premium feed Cosma, Schesir, Farmina (ND), Leonardo, boiled chicken, fish (alias cod, pangas) and beef.